Regular price
$323.00 USD
Regular price
Sale price
$323.00 USD
Unit price
per
Sale
Sold out
Share
I recently saw maps of the lands my family first lived on when they came to Australia, lands that belonged to indigenous peoples first. I saw later photographs of country, grainy black from distant Melbourne newspapers. I saw sandy banks and waterholes, birds and tracks. Marsh plains and a creek that flooded vast acres when the season changed. I read histories and newspaper articles and textbooks. I read about massacres. I learned about a dialect that is considered extinct, and what happened to the peoples that spoke it. I learned about towns that are still named for the waters that came together at a sand hill, and for the path people travelled to meet. I learned that some few white people did stand in solidarity, but they were few and far between, and ultimately not enough. I learned about the sketches of skulls in the creek bed from 50 years later, giving lie to the stories of one or two criminals lynched - men, women, children and babies. This painting is all the bright colours of sky and soil. But it is also the colours of the struggle of blood at the waterhole, at the meeting place so many came to.
Artist: Kate Conrick
Hanging
This piece is being sold unframed and can come ready to hang (with hooks and wire installed, at your preferred orientation) or with hanging fittings supplied separately. If you intend to frame, the framer can install the hanging fittings for you. 
Framing
We are happy to organise framing with our preferred supplier at an additional cost. The best way to go about this is to purchase the piece, and contact us directly after checkout for a framing quote.
Frames range drastically in price depending on size, style and materials, and can be a very personal preference.
Our personal preference would be to frame this in a floating frame made of Victorian ash or Tasmanian oak. 
Freight
This piece is oversized and will require a courier quote to deliver outside Canberra. Within Canberra happy for the buyer to pickup directly, or we can organise delivery at an additional cost. 
View full details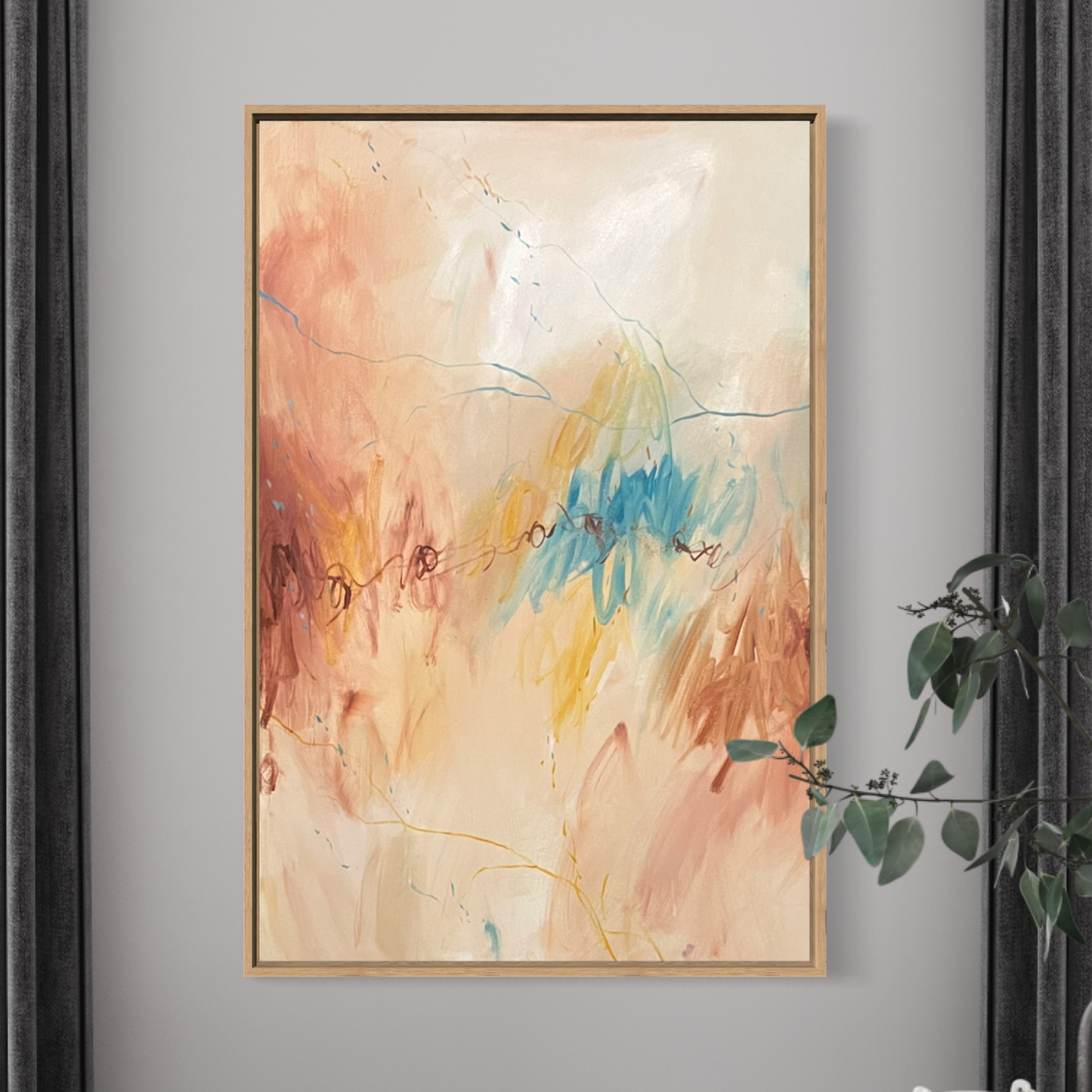 Shipping

All pieces are carefully packed by Josh and Kate in our home studio, within 2 days of your order, using recycled materials where we can. Ceramics or canvas paintings are boxed, with loose canvas or paper paintings shipped rolled.